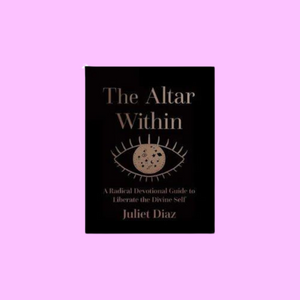 The Altar Within: A Radical Devotional Guide to Liberate the Divine Self
Sale price

$27.99

Regular price
The Altar Within: A Radical Devotional to Liberate the Divine Self is a work of spiritual revolution for all peoples, offering them practices and rituals in the arts of self-worship, self-discovery, and self-activism. The Altar Within is like no other approach to Spirituality, breaking through the vicious cycles of harmful and toxic spiritual practices and beliefs. Diaz speaks for those victimized and enslaved by colonization and offers a new take on personal development based in the resounding plea of our ancestors to live our Divined lives, the ones they could not have for themselves.
In the book, Diaz leads the reader through an exploration of:
Self-Worship: Here, the reader comes to ritualize the experiences of self-compassion, mindfulness, self-acceptance, and radical self-honesty, creating practices that help them to see their Divinity and Altar within. Through these rites, readers will have a better understanding of what it means to decolonize their Spirituality, giving birth to new spiritual practices while honoring the experiences of our ancestors. Dismantling the idea that Divinity must only exist from without, Diaz takes readers on a journey of powerful Self-Worship, connecting them into the Divinity that resides within all of us.
Self-Discovery: In this section, Diaz helps the reader to discover their Divined lives, but in a way that most teachers haven't offered. As Diaz shares, it isn't through our achievements that we find our purpose but through understanding the Divine self. Here, Diaz leads readers through practices in self-love, self-patience, and self-forgiveness, helping them to experience the stillness and wholeness needed to hear the messages shared by the Divine.
Self-Activism: Unlike traditional manifestation teachers, Diaz recognizes that manifestations are not brought forth by #goodvibesonly but by a real and committed process of activism, standing in our deep worth and sharing our humanity. In this section, Diaz offers a series of Devotionals to guide readers in the practice of Community Care, connecting the work not only with the Magic of manifestation but with our communities, our ancestors, and the Divine Self within.
Pushing back on #lightandlove and #goodvibesonly, Diaz dismantles the wellness industry, releasing readers from the practice of spiritual bypassing into a far more powerful experience of self, healing, hope, and Spirit. This book is for anyone, including those who can't afford to buy all the tools, pay for the expensive memberships, people who have real-life issues, illnesses, and hardships. Through The Altar Within, Diaz brings the Magic to real life, acknowledging our humanness by connecting with our Spirit.
The Altar Within will help readers create success in every area of their lives--from wealth, health, relationships, and personal development, to the nourishment of their relationship with the Divine self. As Diaz explains, when we can finally decolonize our spiritual beliefs, Divinity can be a super force in our lives, making us whole, stronger, wiser, and setting us on a path of transcendent activism. #magicalaf
Adding product to your cart
Choosing a selection results in a full page refresh.
Press the space key then arrow keys to make a selection.