We've got the perfect treasures for EVERY witch on your list-- and to make it even easier, we've curated some mini-collections to suit their ~specific~ magical tastes! And don't forget to add our "Haus For The Holiday" gift wrap to box up your treasures.
Happy gifting, witches!!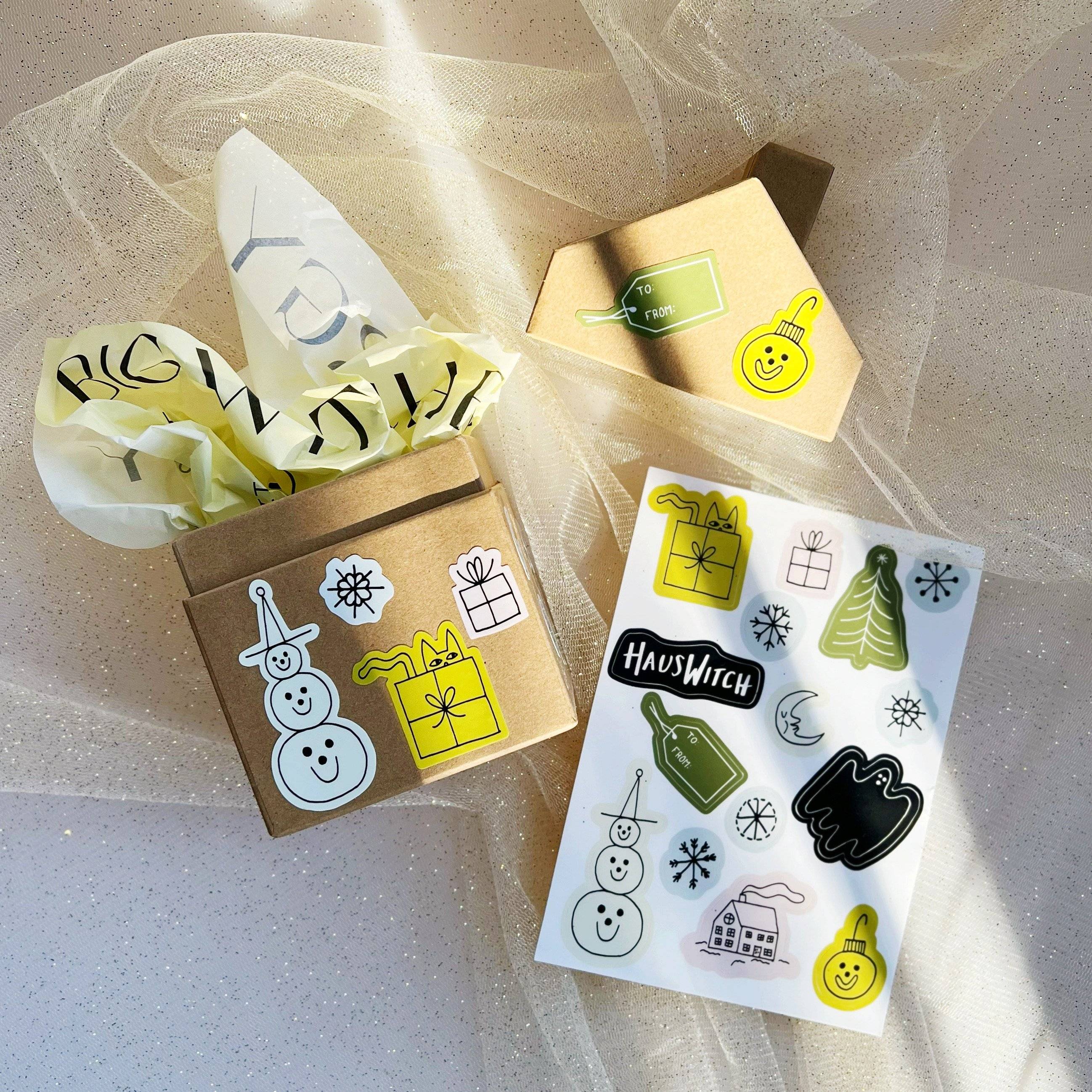 This gift wrap bundle comes with one of our signature haus boxes and a sheet of holiday-themed stickers.
Add a few sheets of our "Big Witch Energy" tissue paper and you've got a gift box that's a whole 'nother gift itself!
A Secret Spell For The Haus Witch
Our Hestia candle and "Catch Fire" Carnelian Essence cast a spell for warmth + coziness for the Haus Witch in your life! You know the one...the "hostexx with the mostest" who always seems to know the *perfect* thing to bring together a space!
These picks are for anyone who might describe themselves as "a witchy Martha Stewart"!
---
A Secret Spell For The Green Witch
The Green Witch is often found outdoors (or gazing lovingly at their houseplants during the colder months). This witch *might* love plants more than people. If they're not gardening or hiking, you can bet they're probably reading about plants or creating their own herbal potions, incenses, and recipes.
Green Witches carry the earthy energy of ABUNDANCE...transport them to greener seasons with our Summer Storm spell candle, then let our "Move Along" Moldavite Essence bring in some "otherworldly" energy to keep things fresh!


---
A Secret Spell For The Love Witch
If you've got a Love Witch in your life, you know it! They're glamorous (in a way that usually feels effortless). They're compassionate and confident, and their mere presence feels like it radiates warmth and beauty! (They might also have a certain affinity for pink + red hues.)
For the love witches in your life, our spicy + romantic Night of Flowers spell candle paired with some "Radical Self-Love" Rose Quartz Essence is a match made in heaven!
---
A Secret Spell For The Beginner Witch
Got someone on your list who's suddenly watching The Craft on repeat? A friend who just can't stop talking about her newfound astrology obsession?
If you know someone just getting started on their magical journey, a Witch Shop spell candle and "Watch My Back" Black Tourmaline Essence will set the Beginner Witch up for success (and some VERY witchy vibes)!
---
A Secret Spell For The Minimalist Witch
The Minimalist Witch knows that there's power in simplicity. They're about making a BIG impact without too many bells + whistles. They enjoy treasures that are clean, classic, and useful.
The clarifying vibes of "Sacred Space" Selenite Essence meet the clean + dreamy vibe of our Soft Island spell candle…perfect for the witch who believes sometimes less is more!


---
A Secret Spell For The Boss Witch
Let "You've Got the Power" Pyrite Essence and our decadent Feast candle cast a golden spell of abundance for the Boss Witches on your list!
These picks are for the friend who's manifesting something BIG…or the pal who needs a little boost to remind them what a Boss Witch they truly are.
---
A Secret Spell For The Nocturnal Witch
This witch walks between the worlds, feeling most powerful when cloaked in shadow (they're almost always wearing black).
The best gift for these nocturnal babes is introspection; The Deep Secret Spell candle and "Spirits Calling" Kyanite Gem essence are the perfect pair for sinking into the subconscious.
---
A Secret Spell For The Luxe Witch
The Luxe Witch casts glamour spells like no other, and their altar is always looking perfectly ~*aesthetic*~ They may or may not have strong Libra placements ;)
Putting in all that extra work requires some extra self-care! The Queendom of Heaven candle can turn any space into a throne room, and Up For Anything Amethyst can channel inspiration straight from the Crown.
Choosing a selection results in a full page refresh.
Press the space key then arrow keys to make a selection.